We were supposed to go out to celebrate 'The Fonts' recent birthday al fresco at a local restaurant. Our first excursion in four months. Mid afternoon the sky clouds over. A check of the weather forecast shows a mountain storm and winds of 120 kilometres an hour are expected at eight. So is hail. We reschedule dinner for next week.
The storm when it arrives does not disappoint. The garden looks quite magical, lit by lightning and blanketed in white. A touch of winter in June. Sophie seems oblivious to the deep growls of the thunder. Perhaps all she can hear is the hail ricocheting off the gutters. I wander down to check on her but she's sound asleep and snoring.
Four thirty in the morning. The noise of the storm has gone to be replaced by the sound of scattering gravel and the slamming of car doors. This tells us The Old Farmer has returned. A peal of high pitched laughter indicate he's there with his 'lady friend'.
At five thirty , when Angus and Sophie head off on their morning walk, the 'lady friend' can be seen on the balcony washing the roof of the venerable motorhome with a hose and a mop. Her beau is doing something under the bonnet and muttering to himself. PONette and master slip silently by.
On our return we're spotted. 'Bonjour M'Ongoose' says The Old Farmer. 'Best to be up early in this humidity if you want to get anything done'. M'Ongoose agrees. The Old Farmer adds that he and his lady friend feel that they deserve a break after being cooped up for three months. ' We thought we might drive down to the Cote d'Azur. The ladies always enjoy a bit of luxury '. Angus makes a diplomatic throat noise that might be taken for agreement. The motorhome with its fibreglass repairs and mouldy window frames is not everyones idea of luxury. The thought that it might make it to the Cote d'Azur is a sign of positive thinking befitting Mike Pence. ' We won't touch the motorway. Better to stick to the back roads ' observes our neighbour. Angus can agree with this wholeheartedly. The Old Farmer will soon be eighty eight. His companion eighty five.
Be choosy when picking an airline :

https://edition.cnn.com/2020/06/25/business/pakistan-fake-pilot-intl-hnk/index.html
For mathematicians :

https://www.quantamagazine.org/new-geometric-perspective-cracks-old-problem-about-rectangles-20200625/
Some folks block off chairs, others put up plastic barriers. This is a very Parisian way of maintaining social distancing :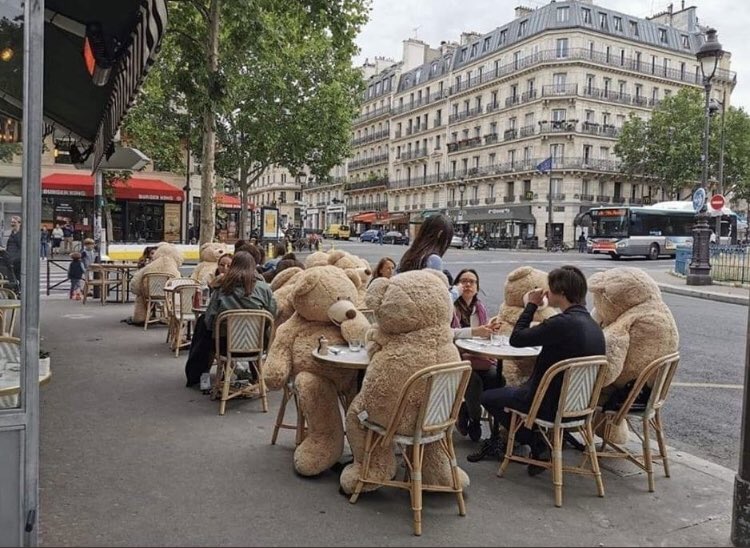 And finally Twitter philosophy :

https://twitter.com/PDLComics/status/1276171569128062976